Gardening enthusiast REENA SINGH shares her excitement at harvesting her first 1.5 foot long bottle gourd off her terrace
After three years of experimenting with tomatoes, spinach, mint and basil, we finally tasted a different kind of big success on our sunny terrace kitchen garden. A giant harvest of a 1.5 feet-long lauki (bottle gourd) and just one 7-inch long bhindi. I was up early on my terrace excitedly clicking a host of pictures. Our first lauki, fresh and shining bright! It was a heady moment.
What is it about terrace kitchen gardens that puts people literally over the moon? Is it the thrill of growing something of your own, like raising your own baby? We have been successfully growing spinach almost all round the year as well as using our own basil for endless cups of our favourite tomato-basil soup. We have our own lush lemon grass plant and use it often for flavouring tea. You can see it growing cheek-by-jowl next to our lauki plant in the photos.
Our equally lush curry patta tree (you can see it in the picture alongside) grows at least three feet beyond our terrace parapet and has long attracted all manners of people who stop by and take big branches of it to use in their home cooking.
Another trick I have learnt is not to leave the planning of your garden to your mali (gardener). First, things rarely go according to the way you visualize a certain plant growing, and second, the mali is usually so intent on making his cut from the saplings he fetches for you that they are usually not of the best variety. Instead, try and spot a good plant at a friend or neighbour's house and request them for a sapling. That's what we did last year with our neighbour's fragrant madhu-malti bel. We grew it out of a sapling that we planted along our boundary wall. It has now snaked its way up to our balcony on our internet cable and has graced our home with its pretty crimson-hued flowers. The added bonus is its refreshing fragrance.
This year, rains in the Delhi-NCR region have been plentiful and plants and green bushes have grown in abundance. Our towering curry patta tree has this year attracted two subziwallahs who have made it a habit to stop by every other day to pull out big branches from our tree to sell to various domestic households on their route to their chosen selling venue at a busy T-point in Noida. I just ticked off a subziwallah yesterday who had already grabbed a fair handful but wasn't satisfied and was still intent on pulling yet another large branch despite my protests that he had taken enough for the day.
The lush green Thai basil you spot in the pictures of our terrace garden is also from cuttings originally taken from two friends. It has a heady strong fragrance and we routinely use it in our kitchen. We also let some of the plants dry out so that we plant its seeds. The produce may not be much, but in terms of the satisfaction index it generates, nothing can beat it.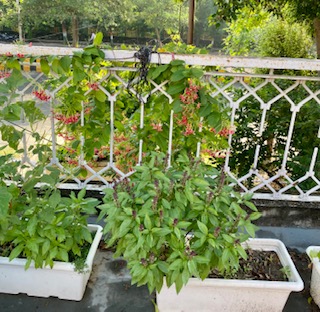 Be open to joining Facebook and WhatsApp groups on gardening. These groups are usually busy round-the-clock and its members go into raptures at their success with growing foodstuff on their terrace. I had to get out of some of the groups as my phone's abysmally low memory was unable to keep pace with the intense sharing and audio clips of tips and tricks that these members share. That's the kind of enthusiasm that gardening groups generate. I was also part of Pravin Mishra's Green Gold group on whatsapp, till I was unceremoniously thrown out as I did not have much to contribute with my yet, limited understanding of gardening.
Nevertheless, there is this formula for a soil mix that I picked up from there. Here it is:
10 kg garden soil
2.5 kg river sand
2.5 kg vermicompost
1 kg neem khali
1 kg leaf compost
20 gm turmeric powder
10 gm black pepper powder
20 gm chuna
Do mull over this. It's the formula I use rather than the mali's old formula of a 50-50 mix of cocopeat and plain garden soil with cow dung picked up from a local gowshala (dairy). Plants definitely grow better with Pravin Mishra's formula. After all, plants are your babies and deserve the best nourishment you can give them. So, pamper them with this secret soil formula and regularly spray with bio-enzymes and organic fungicides that you can also learn from the many videos up on YouTube.
If you are not already into gardening, I hope this article will get you started. It's definitely a new kind of high.